Inspired by: Eileen Agar 
Dates: Tuesday 17 August (exhibition visit) + Thursday 19 August (studio day – morning and afternoon session)
Time: Tuesday (gallery visit), 11:00-13:30 + Thursday (studio day) 10:00-16:00
Venue:  The Fine Art Room – Northfields (see below for venue info) + Whitechapel Gallery
No of sessions: 2
No. of students: 10
Tutor: Mario Lautier Vella

---
| | |
| --- | --- |
| Course fees: | |
| Standard fee: |  £60* |
*please note the course fee does not include travel to and from the Whitechapel Gallery, entrance fee to the museum or travel fares
---
Discover the work and inspirations of British surrealist artist Eileen Agar (1899-1991) and her multi-disciplinary approach to art-making that spanned drawing, painting, collage, sculpture, photography and fashion, plus enjoy an inspirational group trip around the current Eileen Agar: Angel of Anarchy retrospective exhibition at the Whitechapel Gallery…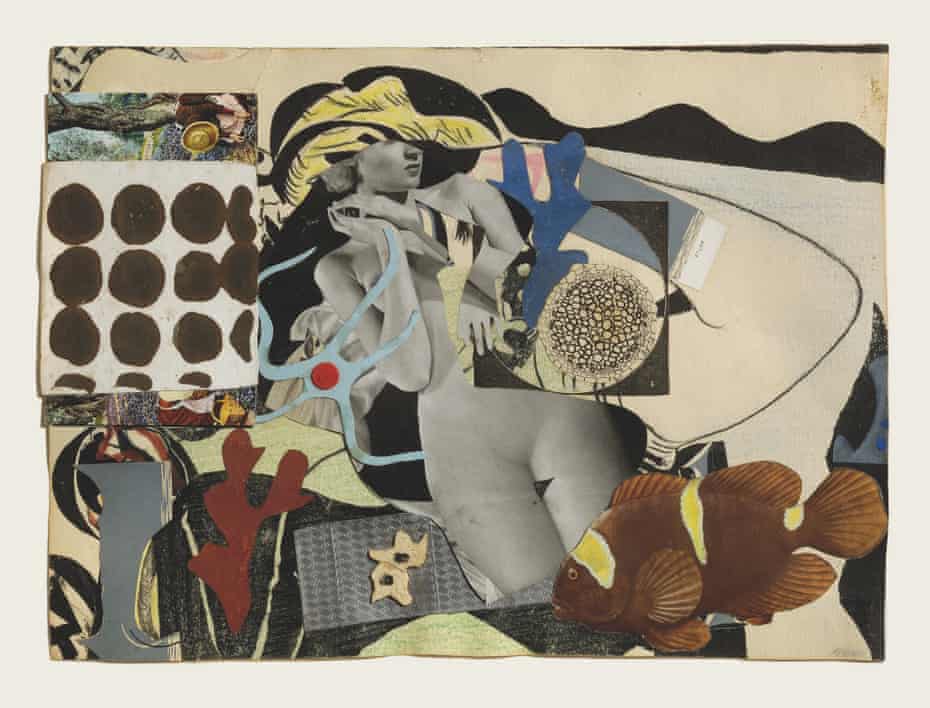 Image: Eileen Agar – Erotic Landscape (1942) Collage on paper.
Our course begins with a research morning at the Eileen Agar: Angel of Anarchy exhibition at the Whitechapel Gallery where we can enjoy over 100 works by Agar. We will consider her techniques, ideas and inspirations that spans classical history, mythology and the natural world, through to more personal work centred on sex and sense of humour. Discover how, after befriending artists in Paris, Agar was influenced by Cubist and Surrealist ideas and how they shaped her practice working with both traditional and non-tradition art media and found objects.
Whilst at the Whitechapel Gallery, you may also want to visit the free Phantoms of Surrealism exhibition – a selection of  artworks, photographic scrapbooks, press cuttings and original correspondence from the London International Surrealist Exhibition (1936) that Agar participated in alongside other key artists.
You then have the option to join us for a spot of lunch at a nearby cafe where we can discuss the exhibition and your research.
On the Thursday, make the most of a full day in the studio where you can respond to your research and explore Agar's techniques and themes, with tutor support on hand when needed.
Find out more about the Eileen Agar: Angel of Anarchy exhibition including location and ticket prices
Course level: intermediate / advanced – some drawing and painting experience essential. Get in touch if you're not sure of your level / suitability.
Venue:  The Fine Art Room – Northfields + Central London venues
Your studio sessions take place at Northfields Community Centre.
Northfields Community Centre is located at 71A Northcroft Rd, London, W13 9SS.
The centre is approximately 5 minutes walk from Northfields Tube station (Piccadilly Line). Local bus routes: E2 or E3.  There are a few parking spaces available at the centre but these cannot be reserved / guaranteed.  Parking restrictions are in place close to the Centre but free parking may be available in streets a short distance away. See map
Course materials:  Paper will be provided. An additional materials list will be sent to you upon booking.
Your course tutor: Mario Lautier Vella is a qualified teacher and professional artist.  The founder and director of The Fine Art Room, Mario has enjoyed teaching for a decade, working with adults at a number of venues and events including City Lit, The Affordable Art Fair and Watford Museum.
He continues to run popular weekly art sessions in Ealing, across London and abroad, helping artists of all levels develop their thinking and skills further.  His work can be found in collections across the UK, Malta, North America, Canada and Australia.
Book your place
Fill in the form below to book your place or please get in touch with any questions you may have. Please read our terms and conditions before booking.